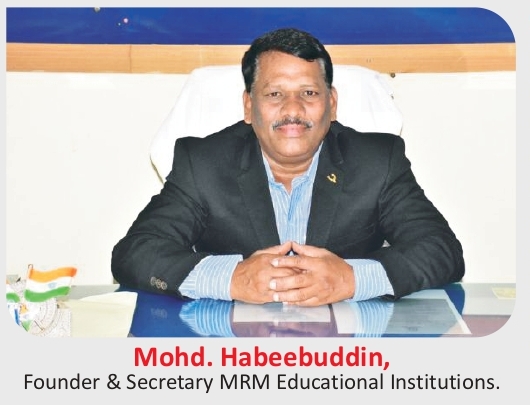 Chairman of MRM Educational Institutions
Mohammad Rafiuddin Memorial Society (MRM) has come of ages and established educational Institutions by Mr. Mohd. Habeebuddin, The Founder  Secretary, is the architect behind the establishment of MRM GROUP OF INSTITUTIONS in the year 2002. With his unlimited energy coupled with untiring efforts, Mohd. Habeebuddin brought laurels to the Institute and the alumni are well employed in National and Multi National Corporations.
With mission of providing quality education to the down trodden from the minority community and other established the Institutes MBA & B. Pharmacy in separate buildings in serene environment far from pollution with a total built up area of two buildings about 82,000 sq.ft. He, with a vision, very soon embarked on to Pharmacy programme from the academic year 2008 realizing the need for such discipline in the near future. Plans are afoot under the table stewardship and guidance of the secretary for new programmes such as Pharm D and Engineering etc. in near future.
Chairman Message
It gives me an immense pleasure introducing you to a place which nurtures and prepares you to enter the myriad dimensional opportunities waiting for you.
True education releases capacities, develops analytical competitive confidence, will-power and goal setting competencies and also instills the vision that will enable one to become self-motivating agent of social change, serving the best interests of the community.
We pride ourselves on creating a conducive culture of learning where students are free to explore their interests in varieties of fields while developing their character as well as competence. However, the delayed gratification, integrity, civic consciousness and the willingness not to give up these are the values that we seek to inculcate in our students. With extra-curricular classes, a strong emphasis on communication skills and its relevant activities are meant to foster cultural understanding; the students of our institute emerge as elucidated and responsible citizens of the globe.
We simultaneously provide both Pharmacy(B. Pharma, M.Pharma) and Post Graduate courses (MBA and MCA). All these courses are in a great demand today, and their demands are expected to further intensify in the forth coming years. With the rise in the number of job opportunities in these sectors the market is flooded with the wide options for the deserving, thus, by opting for these courses we consequently want to see you growing along with us.
In my endeavor to make MRM , the ultimate zone for successful people, I have around me a talented team of faculty members and advisory people. You all just be ready to take out your creative juices out here at this platform, that too with full momentum.
So, on behalf of each and every team member of the MRM welcome you to this breeding ground of success.
Shri Mr. Mohd. Habeebuddin
Chairman
Contact Number: 9246371879